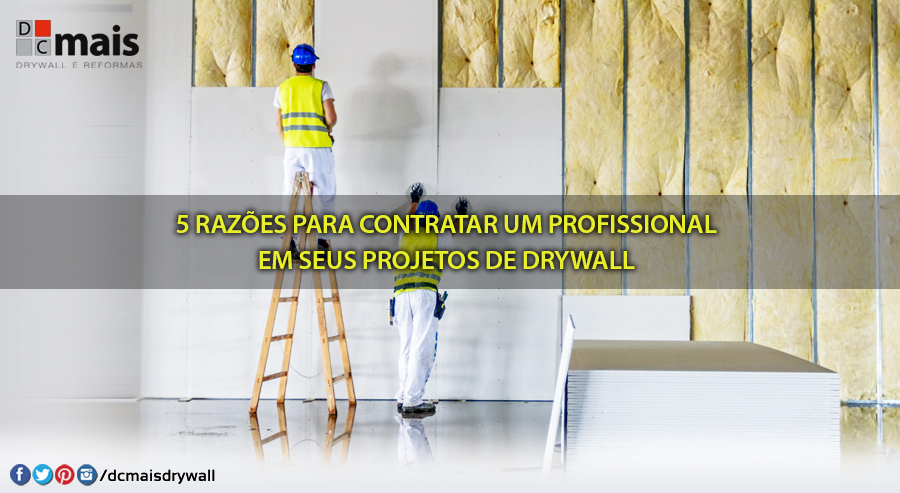 Almost every homeowner needs to repair or install new drywall at some point. And at first glance, installing a drywall seems like a relatively simple task. Ask anyone who has tried to install on their own, and you will quickly learn that it is not as simple as it sounds.
Drywall, or plaster, is an improvement tool in your home that needs to be installed absolutely perfectly. Otherwise, the imperfections will be clearly obvious even after the walls are painted – and eventually, it is likely that someone else will have to redo the work.
Drywall installation is a multi-step process involving both securing cut pieces and framed walls, as well as engraving, kneading and sanding joints and connections so that the finished wall looks perfect and perfectly smooth.
As badly installed drywall not only looks bad, but can increase the likelihood of damage in the future, it is not something for DIY if you are inexperienced. In fact, there are several good reasons for Drywall house projects to be left to a professional drywall repair and installation company.
At the risk of dwelling on the issue, the biggest advantage of hiring a drywall professional is that the job is almost guaranteed to be of better quality than if you did it yourself – especially if you have no experience with drywall.
A professional team not only knows all the techniques and tricks needed to achieve the best possible result, but if problems arise during the project, they will be better prepared to deal with them.
There is less chance of wasted materials too; When you are trying to work alone, things do not always happen as planned, leading to wasted materials and time.
 Professionals have the right tools for the job
One of the reasons DIY professionals often struggle with their projects is that they do not always have the right tools and equipment to do the job. They end up investing in tools that will never use or attempt to replace other tools, which may or may not work.
When you hire a team of professionals, you can be sure that they have everything they need to get the job done right, ensuring high quality results in less time.
Another great advantage to hiring professionals to handle your residential Drywall projects is that you save time. When the contractor makes an estimate of your work, he or she takes into account the staffing needs for the project – which may mean that you have several people working on your drywall at one go.
Not only do many hands contribute to light work, but the knowledge and skills that the staff brings to your home allows them to work faster than you would do alone. A project that can take several days to complete can be completed in a few hours with a qualified team of experts working on it.
As with any construction project, there is the possibility of injuries during the drywall – especially if you are inexperienced. When you hire professionals, you remove the likelihood of personal injury from the equation.
And even in the unlikely event that one of the area professionals is injured at work, the contractor is covered by the worker's compensation insurance, protecting it from any injury costs.
Best solutions for drywall problems
Lastly, without a thorough knowledge of how to install the drywall, you are likely to make mistakes and struggle to solve problems as they arise.
Whether it's a strangely shaped room that requires a lot of cutting or a structural problem that could present a problem in the future, drywall professionals are adept at identifying and solving common problems that could disrupt an inexperienced DIY.
There is a good chance that your masonry house designs will not work, but if there is a problem, working with a professional will ensure that it is treated properly.
See More Information
Drywall Installation – Things To Know Before Installing Drywall
https://www.dcmaisdrywall.com.br/wp-content/uploads/2019/05/Untitled-1-1.jpg
200
200
Dc Mais Drywall
http://www.dcmaisdrywall.com.br/wp-content/uploads/2017/05/logo-dc-mais-drywall-300x134.png
Dc Mais Drywall
2019-05-08 06:27:21
2019-05-08 09:28:16
5 razões para contratar um profissional em seus projetos de Drywall